---
Seer's Shop
Welcome to Seer's Shop, S33R_OF_PYR3's / artina69's official commissions page. Click through the buttons to see the types of commissions available alongside their prices.
If you want to commission me, click the COMMISSION button to contact me. When requesting a commission that includes things from multiple sections (ex. a skin and a custom texture and etc), write "custom" as the commission type.
I am currently taking commissions.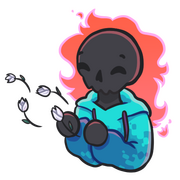 ---
Digital Art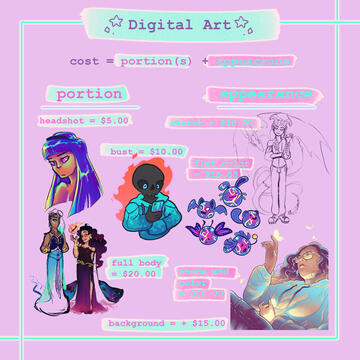 The cost of a digital piece is the portion cost + appearance cost.
Portions:
headshot costs $5.00
bust costs $10.00
full body costs $20.00
background costs $15.00
Appearances:
sketch costs $10.00
flat color costs $15.00
shade and color costs $20.00
For additional characters / background, add it up as another portion (ex. a colored and shaded headshot + a sketched background = (20+5) + (10+15) = $50.00
---
Minecraft Custom Resource Pack Download (WIP)
This will eventually have a link to a site that lets you pick and choose elements that I've already created to make your own custom pack, ready to download (it's like a build your own yogurt thing, ya know). Work in progress for know 'cause that's hard.

In the meantime, you can check out some of the other resource packs, data packs, skins, and mods I've made on my account at PlanetMinecraft.
---
Minecraft item | block | entity | gui Texture
1 item costs $3.00, and a tool set (axe, hoe, pickaxe, shovel, sword) costs $10.00
1 block costs $4.00
entity texture cost depends on complexity and size of texture:
1 panorama costs $5.00
1 screen background costs $5.00
1 container costs $7.00 (depends on complexity)
icons cost $5.00 (depends on # of icons)
1 hotbar costs $5.00
matching icons and hotbar cost $7.00
1 renamable entity / item costs an additional $2.00
1 custom model costs an additional $15.00 (depends on complexity, can't do custom animations)
1 random / connected block texture costs an additional $2.00
For the above textures, I can also retexture things added by mods, however I require evidence of permission from the mod creator that it is ok for me to retexture something they made.
---
Commission
Click the envelope button above or email me at [email protected] to commission me. We can converse back and forth but to keep things simple, please format your initial email as such:
---
Email Subject:
Commission from [your name here]
Email Body:
Preferred Communication Method and Name on that Site [email [email protected], discord #0000 user, tumblr userBlog, etc]

Commission Type [digital art, skin, texture, custom]

General details on what you want, attach pictures to the email if you have references.
---
I'll message you back confirming the details and will almost certainly have a sketch by then, if given enough information.
At that point, we can discuss payment methods (I most often accept it through PayPal at artina69).
I will request payment before giving the final drawing.
I also reserve the right to deny any commission at any point if I ever become uncomfortable working on it.
If you spam my email or other social media for updates or commission requests you will be blocked.